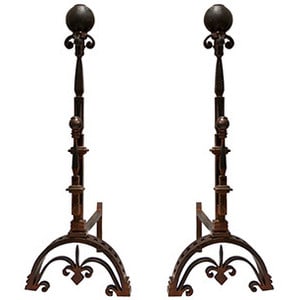 Ballin Fireplace Andirons by Jan Barboglio
Hand hammered and forged pair of tradition Andirons. Square rod construction accented with round ball finials. Large andirons inspired by antiques and designed with perfection. Sold as a pair.
Raised on a cattle ranch once shared by Mexican revolutionaries,  Jan Barboglio was infused with an appreciation for the culture around her. The memories of an isolated, rugged and primitive beauty continue to be a major inspiration in her artistically filled pieces.  All epitomize a hacienda lifestyle and the elegance of old Mexico.  Aesthetically warm, primitively handsome the pieces are not only collectible but are considered true works of art.
Dimensions: W 11.5 | D 19.5 | H 30.25
1 in stock