With spring approaching soon, it's important to know the how to make the seasons tastiest desserts, this week we have chosen: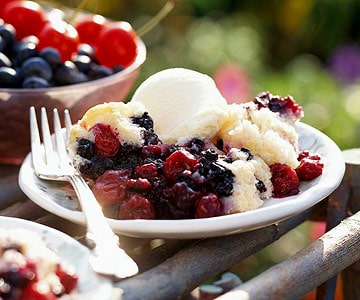 ingredients
1 1/4 cups all-purpose flour
1/2 cup sugar
1 1/2 teaspoons baking powder
3/4 cup milk
1/3 cup butter or margarine, melted
3 cups fresh blueberries
1/3 cup sugar
Vanilla ice cream or frozen yogurt (optional)
directions
In a medium mixing bowl, combine flour, the 1/2 cup sugar, and the baking powder. Add milk and melted butter; stir until just combined.
Spread the batter in a greased 8x8x2-inch baking dish (2-quart square). Scatter blueberries evenly over batter. Sprinkle evenly with the remaining 1/3 cup sugar.
Bake the cobbler in a 350 degree F oven for 40 to 45 minutes or until a toothpick inserted into the cake portion near the center comes out clean.
Serve the dessert warm with ice cream or frozen yogurt, if you like. Makes 10 servings.
nutrition facts
(Berry Easy Cobbler)
Servings Per Recipe 10, cal. (kcal) 204, sodium (mg) 128, carb. (g) 35, Fat, total (g) 7, chol. (mg) 18