I wouldn't be much of a Design Guy if I didn't shop the city and give you an idea at what's going on the East coast and beyond. If I don't hit the streets on my first day here I'll never get to it because I get so wrapped up in my market that I never see the light of day. And delightfully, we happened on one of the best domestically owned new home stores, Michael Dawkins Home (232 E. 59th Street) with shops in New York and Miami. The store has great style and a specific point of view– both refreshing– a great option for those that demand more in personal style than the "RH" look which seems to have taken American style hostage.
Among our favorite things were the Anglo-Indian furniture reproductions with traditional Indian inlaid bone, but all on contemporary style mirror frame, pictured below. We also loved the use of multiple cocktail tables gathered together in front of a Sofa, each in a different style with varying heights, shapes and sizes.
Fendi Casa (153 Madison Avenue) has opened their US flagship home furnishings store in NYC, and it does not disappoint, on two floors. The fashion house is in the home furnishings business, not only for themselves but they also produce a line of furniture for Bentley (yes, as in the car company). Granted the style maybe a bit far out for conservative California but it's executed like a fine Fendi handbag. We loved the "Cat" pouf with its wooden Fendi chain just like on their handbags; we again saw the use of multiple cocktail tables gathered together in different heights (a trend?) in front of seating areas, and the white linen SOHO sectional detailed in leather. Sofas and Sectionals were shown with multiple Cocktail tables here as well.
We loved the SOHO Sectional, upholstered in white linen, framed and trimmed in Saddle leather. A luxe detail — cushion seams outlined in very small matching leather trim.
The most interesting piece was Fendi Casa's SYNI Buffet (shown below) which slides open from either end to reveal the most accessible storage.
There was also Fendi Cucina, with an Alligator paneled refrigerator with silver double reversed "F" handles, and cabinets with leather drawer bottoms embossed with the reversed "F".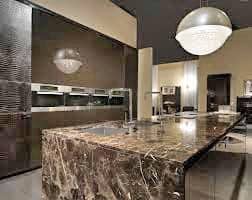 The Bentley Furniture collection was predictably car-like: Chairs with lacquered burled wood detailing and leather upholstery, a quilted white leather dog bed that will fit in the floor board of your Bentley… you get the picture.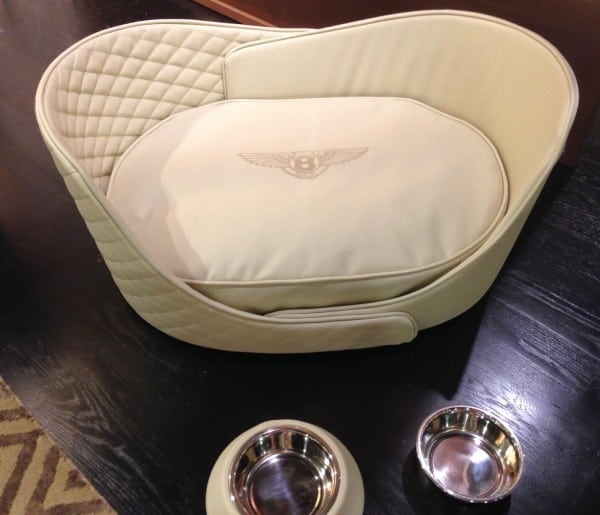 We made a quick stop at our passementerie (trim) supplier, based in the city, to see their newest collection. We loved the new leather tassels, the bright summer silks trims, and the mid-century metal tiebacks designed by Lori Weitzner.
We rushed back to the hotel to change clothes for our one Broadway play on this trip, Lady Day at Emerson's Bar Grill, starring Audra McDonald.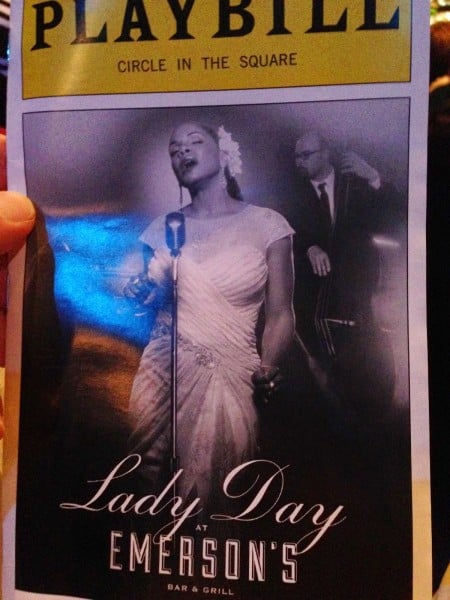 McDonald won the Tony for Best Actress for her portrayal of the drug addicted Billie Holiday, in her portrayal of Holiday's last live performance at the fading bar and grill. One scene (pictured above) is of Holiday bringing her dog Roxie (actually a rescue dog from Hurricane Katrina) onstage in an attempt to cheer herself up.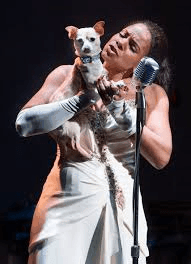 It was a tough watching the story of the iconic Billie Holiday self destruct from her addiction to alcohol and heroin in front of an audience.
Whew, what a day! After the play we headed out for a civilized late dinner at famed chef Daniel Boulud's BOULUD SUD Restaurant (20 W. 64th Street) adjacent to Lincoln Center. The food was terrific and is "Mediterranean-inspired". Caroline had the fish and I had the lamb- both fabulous. The interior is in the art deco style and features a large scale pair of fine art works by artist Vik Munoz.
We toured (more like trespassed) the wine cellar and private dining rooms downstairs, and left through a back stair that led up to Boulud's BAR BOULUD, and his Epicerie Boulud. Is there anything Boulud doesn't do?
Stay tuned for whats New York Now!!
Good Night Moon.