A Weekend with Oprah
O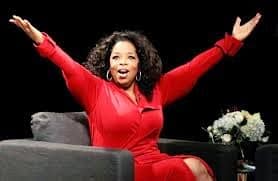 Santa Barbara has a way of grabbing headlines, and this last week has been no exception with all the press and hullabaloo in and around what the locals are calling The Oprah Yard Sale (the Kaminski Auctions billed it as "The Oprah Winfrey Collection").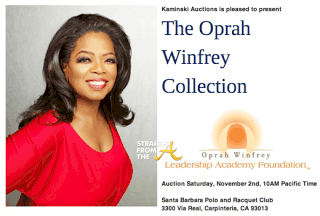 Whatever you call it, it was fun for us, and the proceeds benefit The Oprah Winfrey Leadership Academy Foundation College Fund. The fund is dedicated to helping all graduates from The Oprah Winfrey Leadership Academy for Girls – South Africa.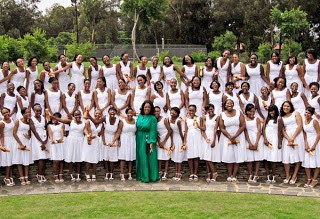 This isn't the first time Oprah has sold her personal items, seems she took to heart the cover on her namesake O Magazine a few years back that heralded, "De-Clutter Your Life!"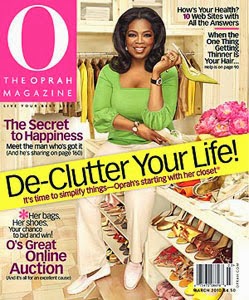 The first sale was dubbed "O's Great Closet Cleanout" by the press, but with today's technology, Oprah tweeted her own advertisement to her followers, "I'm having the biggest yard sale ever!"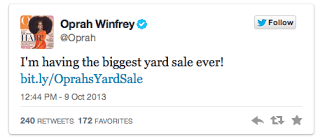 With a celebrity client like Oprah, Kaminski Auctions has been jettisoned to the forefront of the American psyche, if only for a few days. Oprah toured the goods with CBS News, Entertainment Tonight, and the story was, and is still being reported in almost every major newspaper and news broadcast.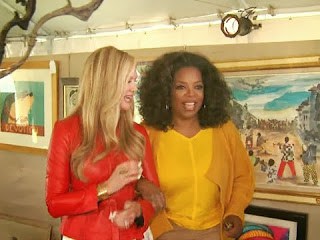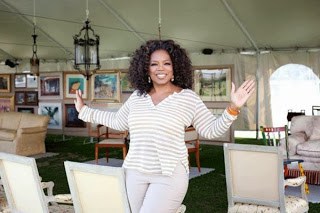 In a recent O Magazine article, Oprah says, "I am evolving [and] my taste is too". She said that "the gilded mirrors, marble urns, the lavish carpets and sherbet palette – it was all very grand, but it wasn't very true to myself," Concluding, "the thing that had been missing from all the beautiful places I'd ever lived in, was me!"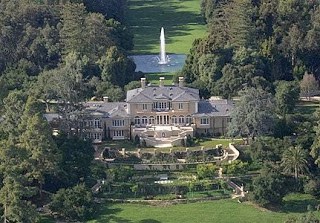 Seems she'll be giving the whole 23,000-sq. ft., $85 million Montecito mansion a facelift.
Originally decorated by the late decorator Anthony P. Browne, a onetime rock-and-roll manager turned interior designer, O has passed the baton to west coast based Rose Tarlow to restyle. Tarlow commented that the houses contents don't "have anything to do with" the mogul. Well, we can't wait to see what you do with the place, Rose.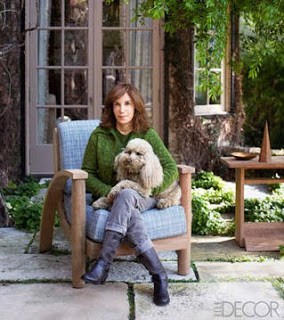 "All I can tell you is that I'm evolving, my taste is, too, and someday soon this room will represent the person I've become."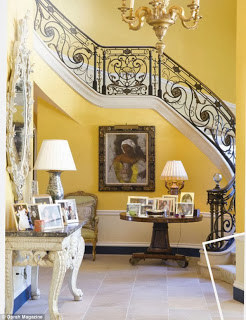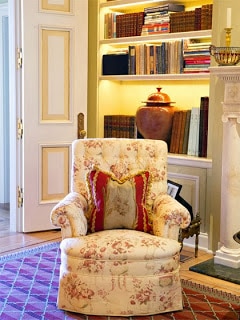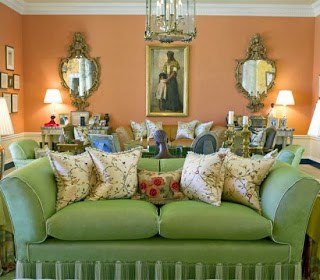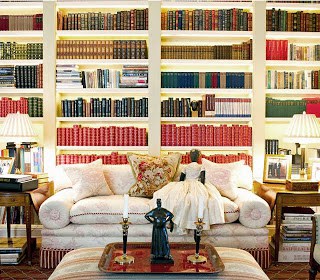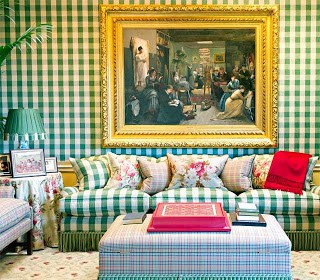 On Friday night the members of the Santa Barbara Polo Club were invited to a VIP party to view the "collection" As we waited for the valet to take our car, a shiny black Cadillac Escalade cut line and sped past us, only to be waived through by the head valet.
"Oprah's here", I joked with my car mates.
"I didn't know she was going to be here", responded my wife
"Hummm…" I thought, Will be fun to see the old girl.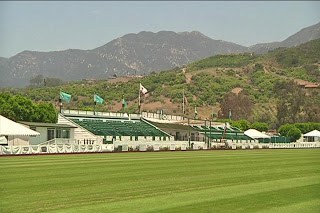 Our group was met by roving waiters serving champagne and hors d'oeuvres, our friend Erin Graffy was on stage as the emcee and Oprah had already made her entrance and was besieged by guests armed with iPhones snapping pictures left and right. I couldn't resist and whipped out my iPhone and snapped a picture, only to realize that Oprah was snapping a picture of me snapping one of her! LOL.

She made her way very slowly to the center of the tent, where we were entertained by a chorus under the direction of Santa Barbara acting and vocal coach, Janet Adderley. The program began with the children singing the theme song from Oprah's movie, The Color Purple, and Oprah sang along, clapping her hands and dancing to the music. She and the crowd were obviously delighted.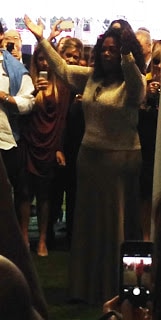 After the performance, Oprah loved the kids and mugged in photos with them and gave them encouragement to continue in their singing.
Oprah was then summoned to the stage by the emcee where she shared with the guests her vision for her School of Leadership in Africa, how the girls were selected, a little bit about where and how the girls lived before coming to the academy.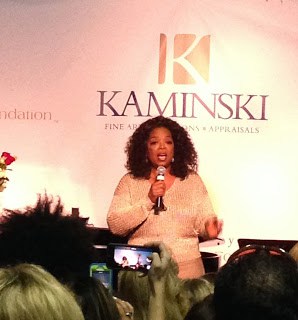 She shared some anecdotes about being "Mama O" to over 100 girls. She said that she's gone from a mom figure to a "consultant". She gives, "advice when they ask for it, which they don't take…" any parent with teenagers could finish the sentence!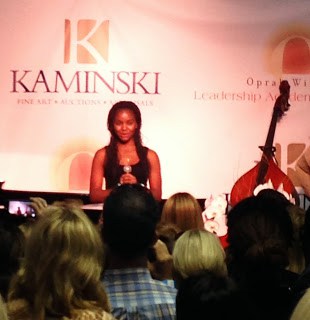 She welcomed to the stage the young lady who had been standing next to her during the performance.The girl, a graduate of the Leadership School in Africa, is now a student at Stanford. Oprah said she had gotten a call that afternoon from her and that she asked if she could, "come home for the weekend", and a short while later, she was here.  Though Oprah didn't mention it, I was thinking it must be nice to have a private jet. Of course I have to show you a picture of the jet since it often sits at the Santa Barbara Airport, and while I was looking for a picture on the internet I saw a story where Oprah herself said, "It's good to have a private jet", when she addressed Duke University graduates back in 2009.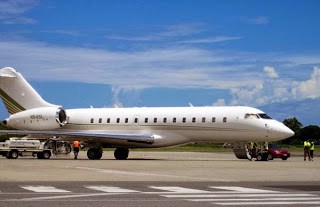 Oprah's ride is a $42 million custom-build Global Express XRS built by Bombardier Aerospace, (Call letters N54SL)
After we heard the announcement that "Oprah has left the grounds", we headed over to the tents holding the Oprah Collection.
There were so many sofas and chairs by the British furniture maker George Smith it could make one wonder just how comfortable could they be?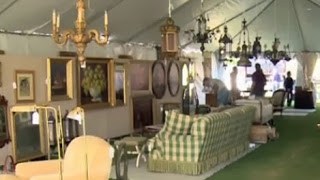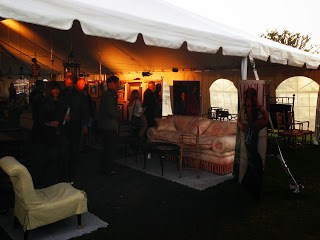 There was a pair of huge green velvet sofas, each 158 inches long (that's 13 feet), and a matching set of four oversized English arm chairs and ottomans that came from Oprah's media room. The sofas ended up selling for $8000, a bargain if you were in the market for two 26 ft. of sofas!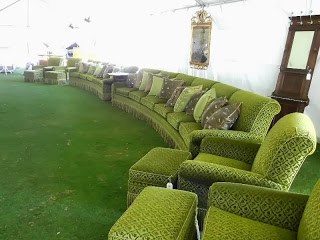 At the beginning of Saturday's auction, Oprah took the stage again and actually auctioned off the first few lots all the while joking and playing with the bidders, with close friend Gail King in the first row cheering her on. She denied that the colorful ceramic parrots in one of the tents were hers, chiding one bidder for paying too much, and pulling one item, a doll, off the market while it was being bid on.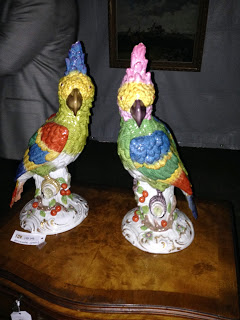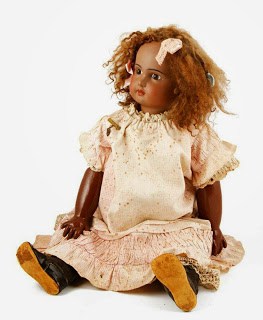 She told the crowd: "We have 76-77 girls graduating and going to college every year. If anyone has ever put a child thru college, then you know why I'm selling the sofa"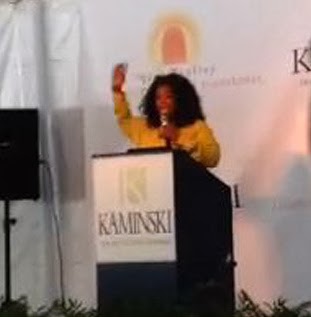 One of the first lots to be sold at Saturday mornings auction was a pair of canvas banners promoting Oprah's film, The Color Purple, which sold for $4100 and $6000 (Pre-auction estimates was $1000-$2000). After they sold, Oprah signed them for the purchasers, thereby helping ensure there future value.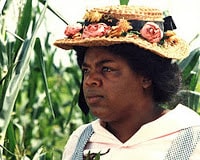 The auction was all over the place with bidders paying thousands of dollars for autographed pictures
of Oprah, often exceeding auction house estimates by ten times, while valuable antiques sometimes achieved a mere fraction of their pre-auction estimates. Of courses there were those items that were true antique with provenance that sold at, or well above the auction estimates, including a set of 6 French chairs.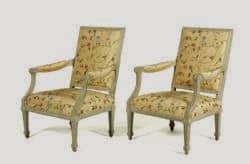 Above: A set of six 18th Century Louis XVI armchairs with hand-embroidered fabric and carved details elicited, had a pre-auction estimate of $20,000-40,000, but claimed a winning bid of $60,000.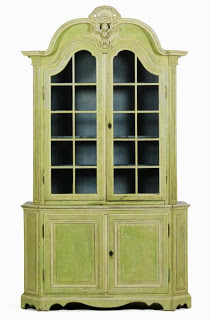 Above: But, a beautiful 18th Century Louis XVI paint cabinet with a pre-auction estimated of $15,000-$25,000, sold for just $8,500.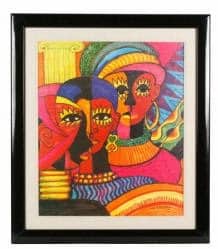 One of the biggest surprises was the sale of a painting by M. Burroughs, titled Cubist Women, which was inscribed "To Miss Oprah Winfrey Herself". This painting had pre-auction estimates of $200-$400, but sold for $13,000.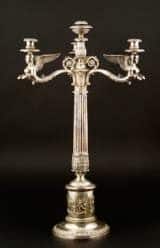 A pair of Silver Candelabra's, estimated to sell at between $3,000-4,000 sold for $8,000, while a Pair of 19th Century French Candelabra's with doré bronze mounts, and sold for just $3,000 with a pre-auction estimate of $7,000-9,000.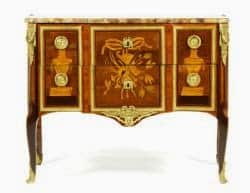 Above: An 18th Century Louis XVI bureau, stamped Boudin, ormolu mounted and inlaid with kingwood and tulipwood, was estimated at $30,000-50,000, sold for just $21,000.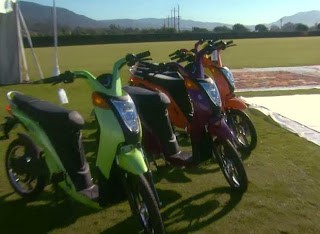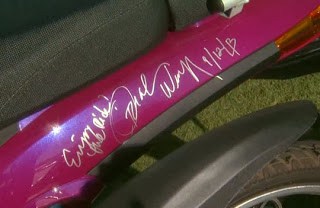 Above: Brand new Jetson electric bikes (retail price new $1995), never ridden, but autographed for this auction by Oprah, sold for $5,450.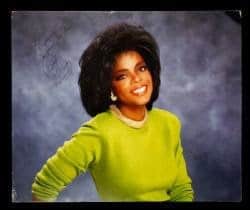 An "Enlarged photograph of Oprah Winfrey", mounted on foam core, autographed, and estimated at $350-$450, sold for $1,200… on foam core, not even framed!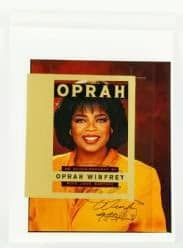 A "Portrait" (photograph) of Oprah Winfrey, (a copy of) the original photograph produced for the book, The Autobiography of Oprah Winfrey, had a pre-auction estimate of $300-$500, and sold for $1,500.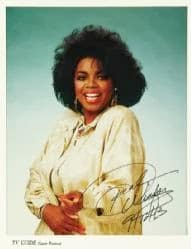 TV Guide Cover from 1987, print, depicting Oprah Winfrey, stamped Triangle Publishing 1987, autographed by Oprah Winfrey. Estimated to sell for $200- $400, sold for $3,000.
Note: Prices above do not include the Buyer's Premium (commission to the auction house paid on top of the winning bid) of 20% for those in attendance and 23% for those bidding on the internet.
At the end of a very long day, over 500 lots were auctioned, one of which I bought. I won (bought) a 19th Century English cabinet, and true to form, with a pre-auction estimate of $250-$300, I paid $700! LOL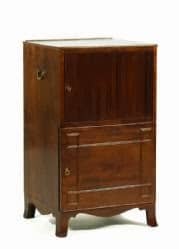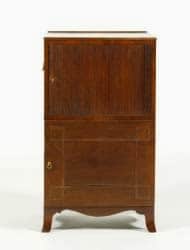 Thank you Oprah for a great weekend!
Good night moon