We just attended the opening of the new Ralph Pucci showroom in Hollywood, a 15,000 sq. ft., 1920's era building that once housed a puppetry school.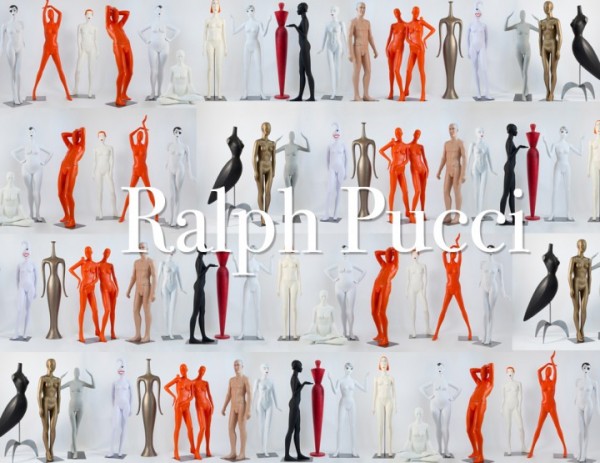 Pucci comes from the mannequin business where he was/is so influential and innovative in his family's business that the Museum of Arts & Design (MAD) mounted a show of his work, "The Art of The Mannequin" which ran last summer in New York.
The showrooms opening was hosted by ArchitecturalDigest, with names checked-off at the door by gorgeous youngsters, I assume models and actors-in-waiting, the gatekeepers, clad in all black and wielding iPads.
The room was filled with a sea of beautiful people dressed in all black (including moi), except for one beauty in a dynamic emerald green, feather bedecked frock. Nothing like a party in LA where everyone looks like a movie star, and many moving with unsubstantiated confidence. The event was filled with a 'who's who' guest list of art dealers, magazine editors, industry folk (movie people), and most importantly Designers and Architects- some toting clients.
I enjoyed visiting with our host, Architectural Digest West Coast Editor Mayer Rus, with whom I swapped stories about our similar experience riding in Clayton Moore's (yes, that one, the Lone Ranger) 1959 red Corvette with his daughter, Dawn Moore (my +1 for the evening) terrorizing all who came into her path as we barreled down Topanga Canyon.
My favorite designer at Pucci is Herve van der Straeten. Below are some of the pieces that we loved.
I also had a nice talk with MichaelWollaeger, former Editor in Chief at Architectural Digest regarding his new magazine, DesignLA, soon to be launched by the Los Angeles Times.
It's bound to be a missing link in the world of shelter magazines as Wollaeger is a veteran of print media having been Editor of Western Interiors, Luxe, and Interiors Magazine's. We are really excited for him. Congrats Michael!
The Pucci folks pulled out all the stops with modern dance performances moving through the very crowded showroom, choreographed by Holly Rothschild.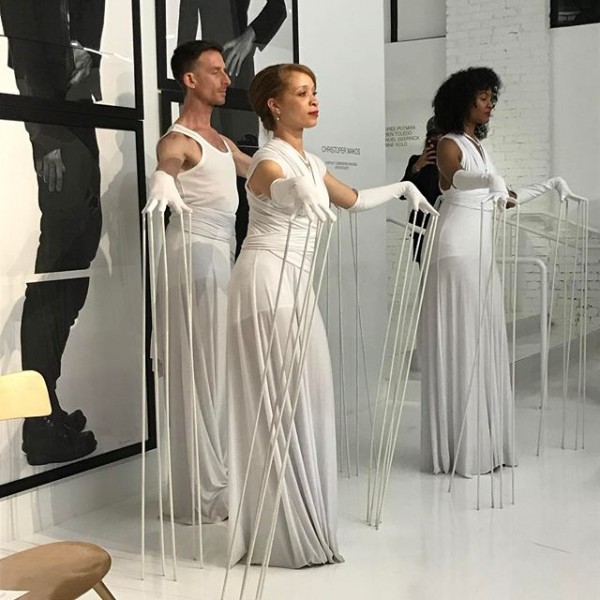 We loved meeting art dealer David Fahey of the venerable Fahey/Klein Gallery who curated the showroom's inaugural show with the work of fine art photographer Marjorie Salvaterra Photography.
The art didn't stop with the massive art installation by Fahey. We loved the stylized bronze mannequin sculptures mounted on Calder-esque bases in the walled sculpture garden, the linen wall sconces by John Wigmore, the polished bronze chair by Paul Mathieu, the steel and lacquer table by Eric Schmitt, and glass vessels by Fabio Maria Micucci.
The night was capped by a candid convo with designer of the moment Oliver Furth.  You know you're hot when your website has only one type-written page, no links and no pictures, only an email address – and you can't even click on that!
We first met Oliver through Dawn Moore at Greystone Mansion where he was one of the principal designers in the Maison de Lux Designer Show House produced by Veranda Magazine back in 2015, and it's been fun to follow his success.
The showroom is truly stunning and has given new life to this building in an off-beat location with its collection of some of the most important artists, and furniture and lighting designers of our time.
For an appointment to visit the Ralph Pucci showroom, call me 805.962.0200