I'm just back from West Week 2017 and it was a blast! First I want to say how grateful I am to have been asked to participate on the panel sponsored by California Homes Magazine and Susan McFadden, Editor in Chief, and hosted by the Witford Showroom at the Pacific Design Center. The weeks theme was "Icons & Innovators" and my panel was titled "Design in America". The subject gave me time to ponder just what that means, and to me it means that we need to "dance with the one that brung ya", meaning we should first look to our own local artisans and manufacturers to see if their talents or products fit our projects. As I presented my project photographs in my power point presentation, I was proud that much of the furniture, art and accessories used were indeed American made.
Participating on this panel gave me an opportunity to get to know designer Kendall Wilkinson and trade design ideas and techniques as we shared our projects with the crowd. Wilkinson shared her line of fabrics and I showed examples of Santa Barbara Style in my projects. But, the real take away from West Week is this: Its a gathering of magazine editors, and working designers and architects, some published and others aspiring to be, all in a place to share and to learn from each other.
Other designer panels featured well known designers from across the United States, all approachable, most were humorous, and all very clear on their point of view. I attended the Master Class Panel hosted by Veranda Magazine Editor Clinton Smith that featured a true design icon and fellow Santa Barbaran John Saladino who's work references European antiquity used in a modern way.  Mr. Saladino noted that light, and the layering of light in a project is the most natural and most important element in a project. In true Saladino form, he shared his knowledge sprinkled with quips such as, "I'm coming out with a new line, it's called mid-century repellent".
Then onto the panel hosted by Traditional Homes Magazine discussing the new tome, Interior Design Master Class, which is composed of writings on specific subjects by 100 designers as assigned by the books author Carl Dellatore. Contributor and former Bravo TV Million Dollar Decorator Martyn Lawrence Bullard wrote on Sex in design, and quipped, "… rooms should be so beautiful that you would want to have sex in every one of them". Style maker Timothy Corrigan spoke on 'Welcoming Spaces' and comfort as the essential element of good design. Suzanne Rheinstein spoke on 'Nuance' and specifically the juxtaposition of using formal and informal things together.
Reagan Hayes hosted a reception and book signing after the Interior Design Master Class panel, where we spied this lacquer table with metal geometric base and this smoked Lucite pull-up table. We met Reagan when she first started her line several years ago and are so thrilled for her success.
For me it's not about the 'glammy' parties, more importantly its about the opportunity to meet the designers of the products that we use.  I got to meet textile designer Zak Profera of Zak + Fox (Fox references his dog that looks like a fox!) at the Kneedler Fauchere showroom. I learned how his travels as an interested observer of the world and its cultures influences his textiles that have a sense ethnic history woven with an organic texture in their composition.
Art, flora and fauna reigned supreme at the new Furth Yashar Gallery showing the art/furniture of Stefan Bishop. The showroom was a multi-sensory experience with floors covered in loose pine needles, the air filtered with layers of scents that changed the mood from room to room by a 'scentologist' (my word not theirs), and light layered only on the art, juxtaposed with black walls and ceiling… it was beyond, beyond!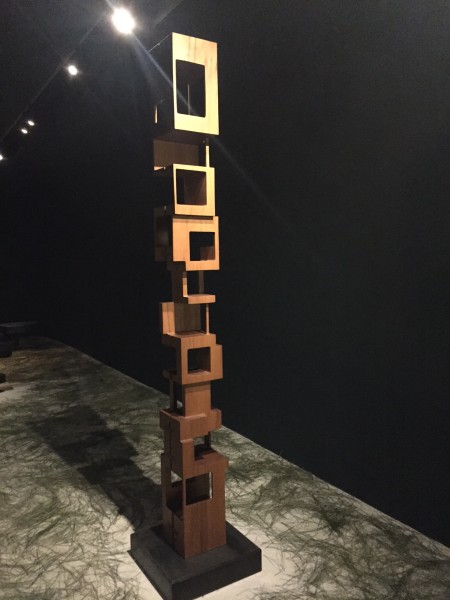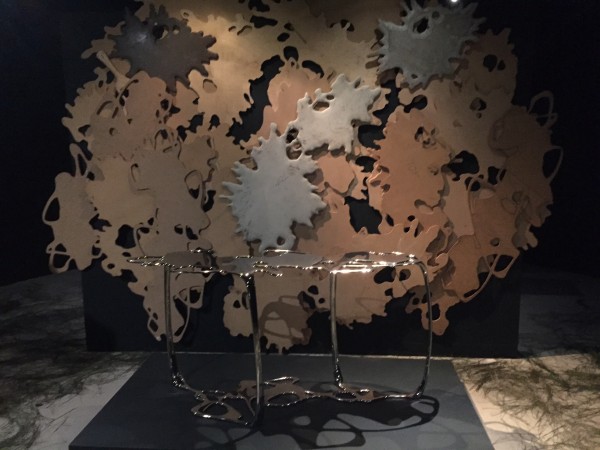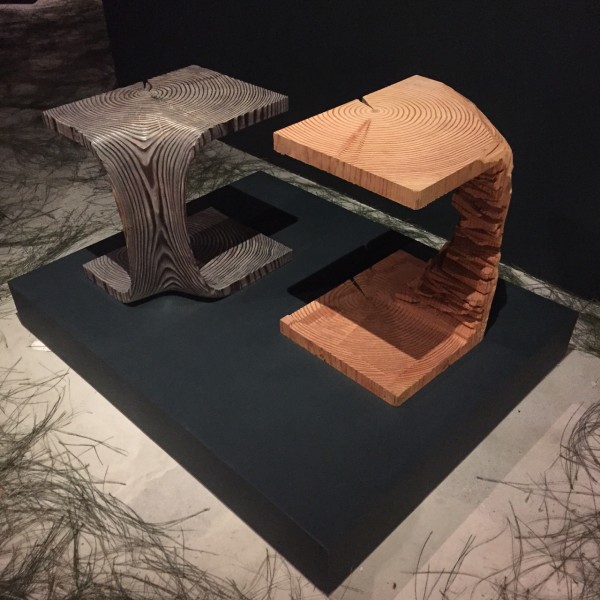 Bishop is both artist and artisan, with wood carvings that were burned, honed, or polished wood, others cast in bronze and polished steel. We loved the "totems" carved from one piece of wood that looked like individual boxes stacked on top of one another. Bishop's furniture is indeed high art.
Artful Honorable Mention: The Rhodium tables by Finnish artist Janne Kyttanen at Industry Gallery, and the oversized blown glass Murano bowls at Fabbio Micucci.
A walk on the wild side at Jean De Merry who represents artful lines like this Lucite ottoman upholstered in green Lamb, and continued with the faux furs at Kneedler Fauchere.
We love learning and West Week 2017 was a two-day event filled with the opportunity to learn, to share and to see and so happy to have been a participant!