Welcome to Art + Form, our Spring event and show at Cabana Home Santa Barbara, featuring the work of famed California Modernist and mid-century furniture designer Milo Baughman and the contemporary abstract oil paintings by Brian Hollister. The show is produced in conjunction with Thayer Coggin, the manufacturer of Milo Baughman furniture since 1952, and the Edward Cella Gallery in Los Angeles.
On display are 33 iconic Baughman designed furniture pieces, manufactured by the original maker, Thayer Coggin. The show includes the Fred Chaise Lounge and the Scoop Chair, among the first two pieces Baughman designed for the company.
Milo Baughman furniture has been featured in the Whitney Museum of American Art and the Los Angeles County Museum of Art (LACMA).
We are so thrilled to be one of only three venues in the state of California to feature this show, and are further honored to open the show with the oil paintings of California artist Brian Hollister, whose work is beautiful juxtaposed with the designs by Milo Baughman. Brian is an avid outdoorsman and his work is inspired by his encounters with nature which you can clearly see in his paintings, where the earth gives way to the elements, from the weight of the earth to the light in the sky.
They are large, visually stunning oil paintings on canvas and the hardest thing about selecting which works to present in the show was trying to select the works we wanted to show! We wanted to show them all but had room only for ten large paintings and it was impossible to rule one out over another! We do have a collection of Hollister's smaller works on paper, also rendered in oil, which gives those who can't house a large canvas the opportunity to have works that are more easily displayed. Like the larger works, the smaller pieces are just as difficult to select from because they are each so beautiful! I particularly love the suite, "This is It" featured below, a stunning set of six pieces.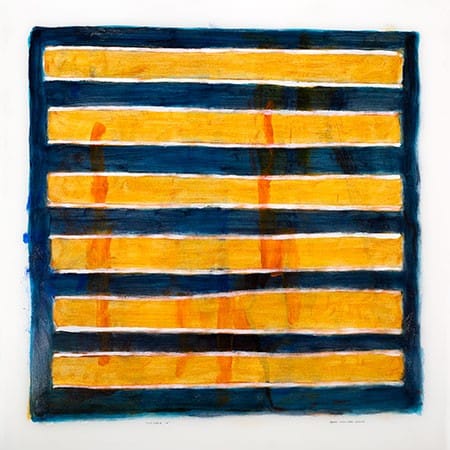 I'm in my mid-fifties and like many people my age, we have our own memories of mid-century furniture from the first time it went around! I was telling my 70+ year old mom about the show and I asked her whatever happened to the modern coffee table that she'd so proudly placed it in front of our olive green Early American sofa. We both smiled at the memory. I thought about what it must have been like for my fashion forward mom, as a young mother and homemaker, trying to put together her first house on a budget with furniture given to her from her mother, and what a struggle it must have been to integrate those pieces with new, modern pieces that she really wanted. It was not such a throwaway society back then, and I remember the awkward juxtaposition of that sofa and coffee table sitting together for so many years, waiting until the moment she could afford to jettison the olive green sofa for something more modern. Wonder how Mom would've like the Feelin' Groovy Chair, below?
So, for this interior designer, I appreciate the practicality of people that lived in that era that we call the midcentury, and their penurious ways. It goes quite well with the philosophy of Mr. Baughman, who felt that modern design should be unpretentious and affordable to the masses. In setting up our showroom floor for this show, I was amazed at how well the mid-century pieces blended with the existing furniture on our showroom floor, much of it clean-lined, more traditional furniture.
We loved mixing a piece or two of the modern with the more traditional and it's such a great look, like our antique Baby Grand Piano with the Curly Chair, in Lucite and polished stainless steel chair— we love the push and pull between modern and traditional, new and old, each complementing the other.
The show is up at our Cabana Home Santa Barbara store through April 15th, 2016. Come join us for the experience! Monday thru Friday 10:00AM – 6:00PM
Good night moon